Foyer upper floor: 10:00am; 11:00am; 12 noon
Our rural skills mini-workshops are an opportunity to try your hand at traditional crafts under the guidance of an expert.
Book your place on the day at the Smallholding Scotland office in the Foyer. Numbers are limited to 12 places per session. Please check the details of each session for payment and age information.
Woven willow star weaving workshop with Anna Liebmann
Sessions at 10am & 11am
Duration approximately 1 hour
Foyer upper floor
Participants must be over 8 years of age, and under 12s must be accompanied by an adult
£10 per participants, payment by cash only, please pay Anna at the workshop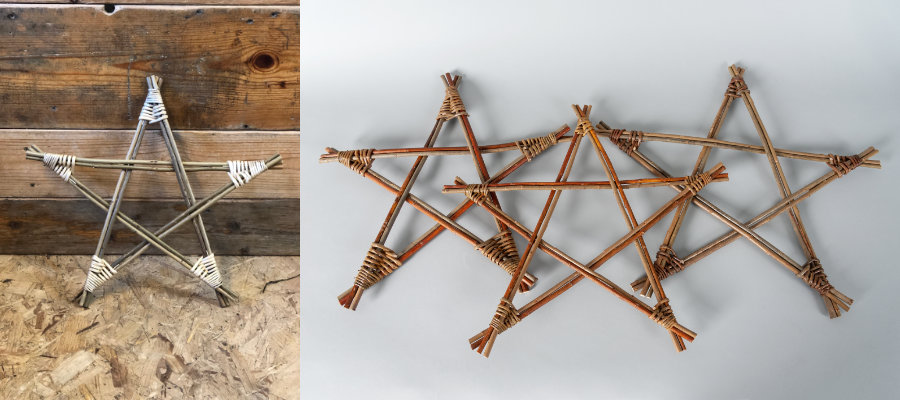 Students will match and select 10 pieces of beautiful, straight, colourful willow butt to tip (that's top to tail) and bind them together with weaving (and some temporary ties!) using soft, flexible soaked basketry willow.
Create a striking piece for your door, tree, or wall. Many of the fundamentals of basketry will be at play: material selection, preparation, and weave tension. Students pieces can range from 6″ / 15cm to 16″/ 40cm.
Read more about Anna and her work at: www.annaliebmann.net
Hairpin crochet with Ellie Fiddes
NB: Participants must be confident in the three basic crochet stitches: chain, double, and treble
Session at 12 noon
Duration approximately 2 hours
Foyer upper floor
Participants must be over 16 years of age
£20 per participants, payment by cash or card, please pay Ellie at the workshop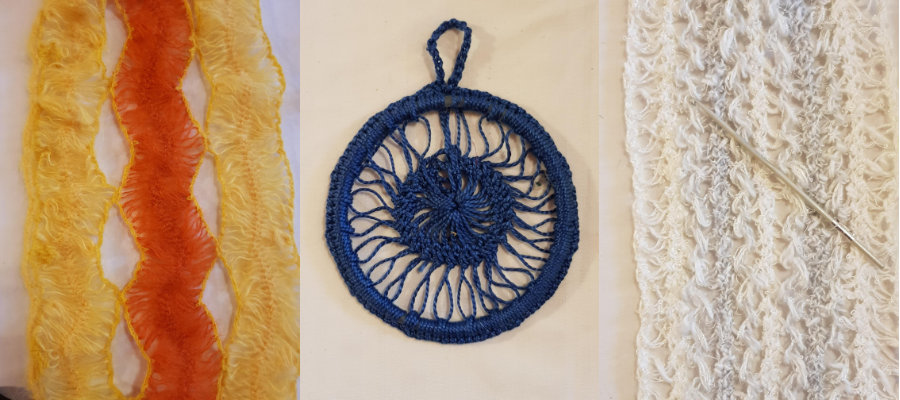 Hairpin crochet creates a lovely delicate lace. It is worked in braids comprising of loops, secured at the centre by crochet stitches.
These can then be joined together to make scarves or other garments. They can also be joined in circles to create motifs.
You will learn:
how to make braids;
how join braids using interweaving or crochet stitches;
how to edge strips;
how to join them in a circle to make motifs.
Read more about Ellie and her work at: elliefiddes.com