A beginner's guide to showing poultry
Please note, at this time it seems unlikely that the Poultry and Waterfowl show at the Festival will be able to go ahead due to legislation around the Avian Influenza Situation. updated June 2023
by Tim Daniels, poultrykeeper.com

Exhibiting pure breeds of poultry at an official show is an exciting hobby that is pursued by many people around the country, but how do you get into this sort of thing and what preparation is needed to enter a show?
Most of us who keep a few chickens on the smallholding or at home are motivated by having fresh eggs, but if you have taken that further and hatched and reared your own pure breeds, the next step is to study the Breed Standard to see which of your birds are good examples, worthy of keeping for next year's breeding pens and which ones should be sold on.
This was how I got into showing poultry, it seemed to be the next logical step. I had selected the best of my birds and now wanted to have some fun seeing how they would fair at a show!
Classes of Poultry
There are many different standardised poultry breeds you can enter into a show. These need to be entered into the correct 'Class' and you will need to apply to the show secretary (or download) a schedule for the show you plan to enter.
View the Scottish Smallholder Show Poultry and Waterfowl Schedules.
Once you have a schedule, you can decide which classes to enter. There are classes for bantams and large fowl so make sure you are entering the right one!
If there isn't a separate class for your chosen breed, you should enter it into "Any Other Variety (AOV)" but remember rare breeds (those that do not have their own breed club and are looked after by the Rare Poultry Society) often have a separate class as do the Asian Hard Feather breeds. If you are in any doubt, it's best to ask the show secretary for advice.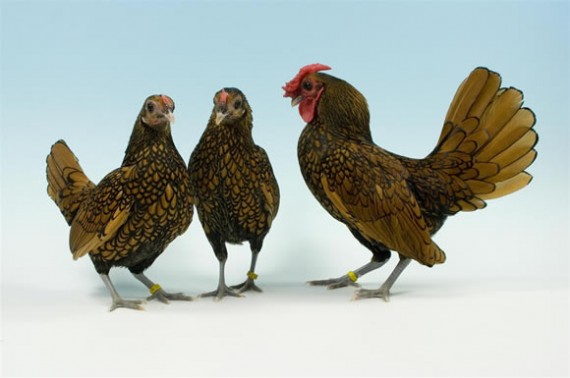 Most shows put on classes for junior exhibitors as well as for utility breeds and eggs. Utility Breeds are those that are selected during breeding primarily for good egg production. The Marans, Light Sussex and Leghorn are good examples of utility breeds.
An entrance form should be completed and returned, together with the appropriate fees before the deadline and then you're all set to go!
Show preparation
Show preparation starts long before the exhibition date with the breeding, hatching and growing of your exhibition birds, so without going off on a tangent (there has already been much said elsewhere about poultry breeding), let us assume you are ready to exhibit a couple of your best birds.
If you can attend another show before you enter one yourself, you can pick up a lot of tips from other exhibitors and they are usually your best source of advice when it comes to the finer points of a breed.
In the months before the show, keep your birds clean and provide them with the best diet so that they will look their best on the day. You must above all enter a fit and healthy bird.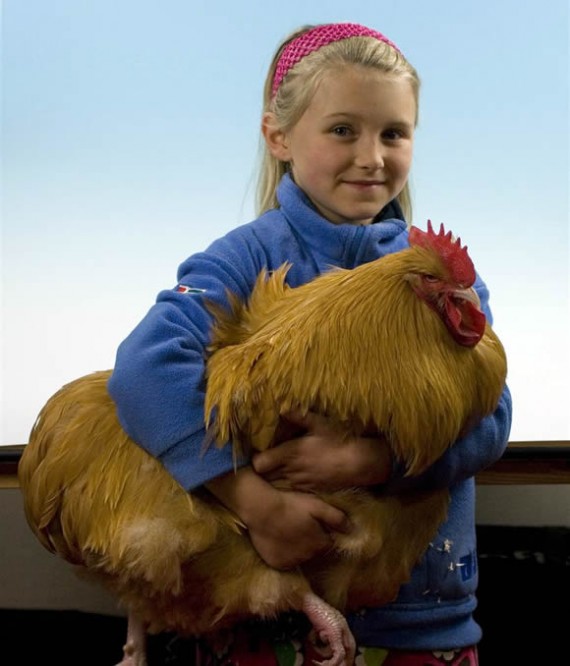 Most serious fanciers will keep their birds indoors in 'penning sheds', especially white feathered breeds to avoid sunlight, grass and mud from spoiling their plumage. Keep male and female birds separately and make sure there is no bullying going on as a few feathers pecked out in the wrong place can spoil the perfect bird.
Every bird will be taken out of the cage to be examined, so it helps if your bird is relaxed and can be handled by the judge. Cage training before the show can help to acclimatise your birds to being handled.
I started off by using a puppy crate to train my birds, (some use a rabbit hutch). I place my birds in this every day for a week or two before the show to have corn and other treats. They soon start to realise that a hand coming into the cage means something nice is coming which can help them relax before being picked up.
The day before the show
Just before the show, wash your bird using warm water and baby shampoo. You will find most birds settle and don't mind being washed providing the water is warm and not too deep.  Use a jug to pour water gently over the bird, avoiding the head. Wrap them in a towel afterwards before blow drying gently.
Waterfowl must not be washed with shampoo as this removes their waterproofing and you'll have birds that will get waterlogged and very cold during the winter months. Ducks and Geese do a fine job of bathing themselves if you provide them with clean water every day in the run up to a show.
Judging
Shows are run to guidelines laid down by the Poultry Club of Great Britain and judges are either experts in their chosen breed, or have been qualified to Poultry Club standards.
Judges will usually have 100 or even more birds to judge on the morning of the show, so it is important to make sure your bird is caged and settled when judging starts. As a general rule you should give your birds at least 30 minutes to settle.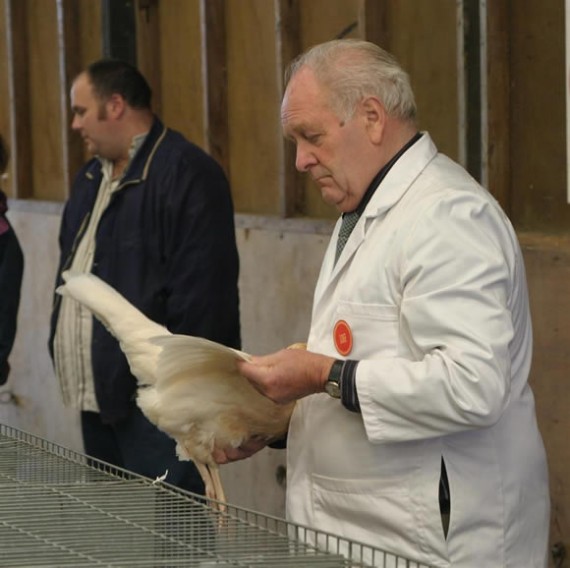 In the UK, we have a comparison system of judging, where a judge will place birds in 1st to 3rd, sometimes 4th position according to the birds entered in their class on the day. Prize cards are awarded and from the best birds of each class, judges will decide amongst themselves which birds should go on to win special awards such as the coveted 'Best in Show'.
Whilst a judge is at work, there is usually a steward taking notes for them to remind them of what they find as they go through their allotted classes. Do not interrupt a judge at work.
Only feed and water your birds after judging has completed. You are responsible for the welfare of your birds at all times so make sure you take clip on feeders / drinkers and that your birds are fed and watered as soon as possible after judging.
Prize cards are left on cages after the judge has made his or her decision, if you receive one, leave it in place until you leave the show with your bird so that others can see which birds got placed. You can sometimes talk to a judge afterwards about your bird to get some valuable feedback.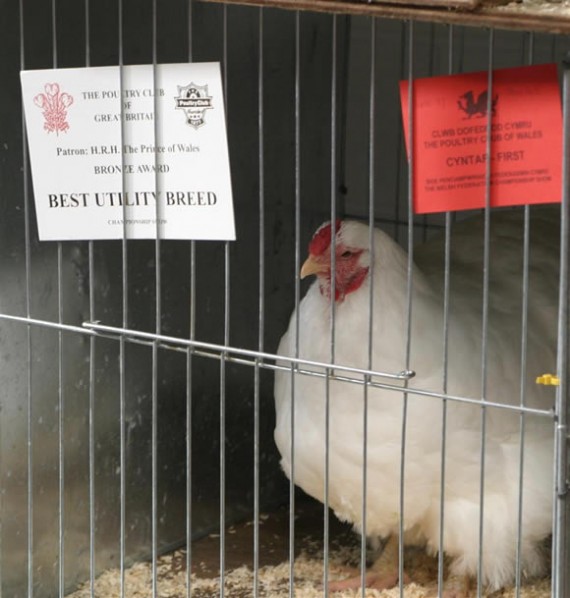 There has been an increase in entries over the last few years as new fanciers come into the hobby and start showing poultry.  You never know what you'll win at a show, you may only end up coming away with nothing other than the experience but this in itself is worthwhile and showing poultry can be a lot of fun.
You will certainly make new friends along the way.
See you at the next show!
Text and photos are copyright of the author and should not be taken without permission.