A beginner's guide to showing goats
So you have decided to take your caprine beauties to a local show and it all seems a bit daunting. Here is a short guide of the most important things to remember when showing goats, and when to do certain jobs when preparing for your first goat show.
Completing your show entry
Make sure you have all your goats are registered with the BGS (especially kids) and have their correct ear tags/tattoos. You can complete the entry form with "RAF" – registration applied for – but will need to supply their correct BGS registration numbers when arriving at the show.
When planning to show adult females – they will have to be in-milk (although not necessarily kidded in the current year, but can run-through) and will need to be milked out at the show, including the night before by 6.30pm (or other specified time – it will be stated on the entry forms).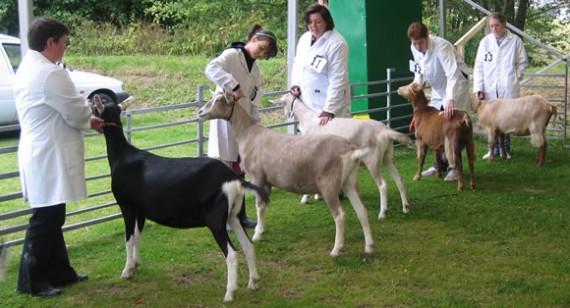 Ensure you have a valid CAE (Caprine arthritic encephalitis) certificate from your vet (ALL goats in a herd of which SOME animals are shown will need an annual blood test to certify that the herd is clear of the virus). Any kids (goats under 12 months of age) travel on their mum's certificate (even if you don't show the adult goat herself at that show, her certificate will have to be included).
If you have bought the kid, but not the dam, make sure the vendor includes the CAE certificate in the paperwork.  Goats under 12 months are not tested for CAE – so you cannot show a kid if you do not have the dam's certificate! You will need to include a photocopy of your certificate with the entry forms.
You have proper transport to take your animals (a livestock trailer is best, but some goatkeepers transport their animals in customized vans).
Preparing for the show
Start taking your youngstock out on short walks on the lead, and away from their mum (especially if they have not been separated before). Always remove the collar when the kids go back into their pens, goats kids are notorious for getting themselves hurt in the most awkward places.
Have a first check and trim their feet if not done before.
Order a white coat if you don't have one already.
If you have long-coated goats start brushing them regularly. For spring and early summer shows brush all your goats several times a week to make sure their "winter wool" is gone.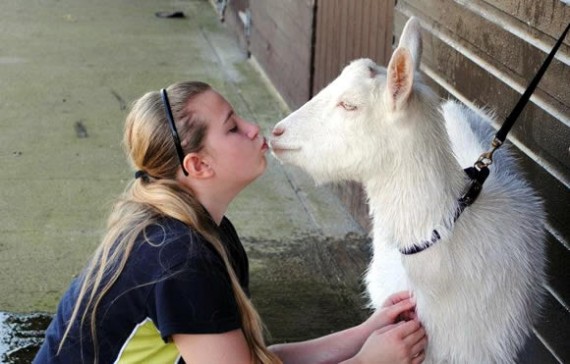 And lastly – make a copy of your entry form (so you remember who was entered in which class) and ensure that the original is sent off in plenty of time to guarantee you meet the deadline.
One week before the show
Clean and trim feet.
Sort out goat coats, if using.
Trim (female) goats' beards so that the chin is smooth and looks feminine.
The day before travelling
Wash the goats with a general shampoo (or a special whitening animal shampoo if your goats are Saanens, British Saanens or white AOV goats), rinse out well and flatten the coat.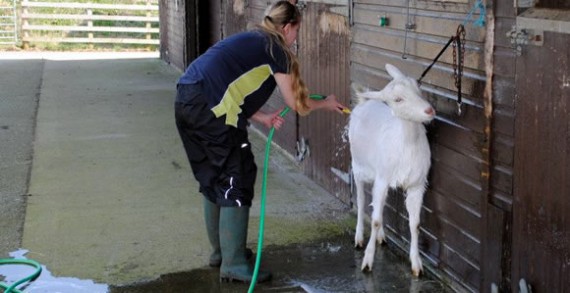 It is best to then put a rug (or goat coat) onto the still wet animal, with a towel underneath to slowly dry off.
Leave goats in their freshly cleaned-out pens (with their coats on) until travelling. Check feet for a last clean and if necessary tidy-up.
What to take
To minimise the stress on the day use this checklist of kit to make sure you've got everything ready in plenty of time:
Animal movement forms (DEFRA or SAMU ones).
White show coats for the humans – freshly washed and ironed (with some bulldog clips to attach your goats' numbers to your breast pocket for the showring).
Water buckets and bucket holders (the ones that loop over a hurdle are best).
Feed bowls for concentrate and ALL the usual concentrate feed your goats are getting – making sure you add up all the quantities for their separate meals.
Hay  and portable  hay racks (pannier-style ones are best).
Some freshly cut branches if possible.
A box with all the essential pieces of kit : shampoo, sponge and nail brush (to give those feet a last clean), an assortment of brushes (depending on the kind of coat your goats have), a pair of scissors (always necessary for a last trimming of the beard), some antiseptic spray, chalk (for cleaning and whitening any of the breeds that have white markings).
Show collars (they don't need to be expensive leather ones but a new pristine collar just looks better).
For a milking competition you will also need the following:
Milking buckets – one per goat to be milked (stainless steel ones are usually used, but most people start off with white food-grade plastic buckets and then upgrade to stainless steel by buying second-hand from people retiring from showing).
If your goat is a bit fidgety, especially towards the end of milking, it is helpful to be able to strip into a plastic jug, after you have removed the milking bucket to safety away from kicking hoofs. You will need one jug per goat to be milked, and the show steward will give a set of extra numbers for these (identical to the ones you will get for your milking buckets).
A portable milking stand is ideal if your goat is used to be milked on one, however again this is a piece of kit that often comes later when you are committed to showing.
As milking competitions involve an overnight stay for the goats (and usually for you as well unless you live fairly close to allow a quick drive home) – you will need a tent (or a car big enough to allow you to sleep in it), sleeping bag, camper mat and of course toothbrush. Some food for breakfast and snacks is helpful too, especially of this is not a public show and so there are no food vendors).
And lastly – load your goats! It has been known that goatkeepers drove off with the girls still in their pens in the goathouse… (but they always remember before arriving at the showground!)
Most people take the goat coats off for travelling, if the journey is a bit longer and it is a warm/hot day. I also always remove the collars from all my goats for safety.
If this is your first show and you only know a few people there it is advisable to seek out the show steward and speak to them, s/he will then look out for you and guide you through the day.
If we've whet your appetite why not make the Scottish Smallholder Festival your first goat show? Have a look at the goat show schedule, and contact us if you've got any questions.